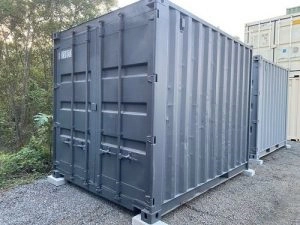 2nd Hand Container Grades
All second hand shipping containers are used by shipping lines for roughly 15-20 years and as you can imagine, due to this, they will all have surface rust and dents but ultimately, they are all different in condition based on their life at the shipping lines.

Because of this, generally, the only shipping containers available in second hand condition will be the 20 foot & 40 foot sized units. This means almost all speciality containers won't be available in second hand condition and are only available for purchase in 'new build' or 'single trip' condition.

Above all every container company is different in the way that they grade their second hand containers. So it is best to check and ask the condition of each grade to make sure you know what your getting. Below we've listed the used grades available for purchase and their condition.

Call one of our friendly team today on 1300 BRENDO for more information on our used containers.
Containers not available in used condition
10ft Shipping Containers
20ft High Cubes
Full Side Opening Containers
Dangerous Goods Containers
Most Speciality Containers
Refurbished & Repainted Containers
At Brendo's Budget Boxes, we offer a full refurb and repaint of any 2nd hand shipping container that is above "basic watertight" condition. We generally recommend refurbishing the best quality second hand containers, as the lower grades, once repainted, can make the big dents standout.

With our 3 step process of Prep, Prime & Paint, you can rest assure that all refurbished and repainted shipping containers are done properly and professionally. A near new finishing look, for a fraction of the new build cost.
Before: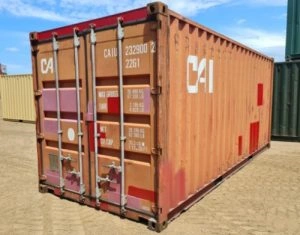 After: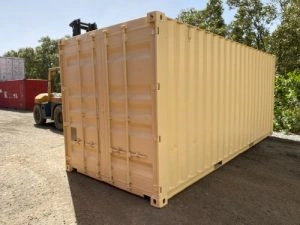 Prep
Checking that all seals are intact, the doors open and close easily, we also check for dents in the roof where water might hold and we will prop it up to make sure that your container is in long lasting condition.
Prime
After that, we will sand blast all existing surface rust, we don't just paint over it, we use solvent based metal primer which helps prevents any future corrosion and adds extra protection against the weather.
Paint
After the container is prepped and primed, we'll start top coating the container to any singular colour of your choice. We also repaint the interior a standard light grey, to ensure the container looks like new inside and out.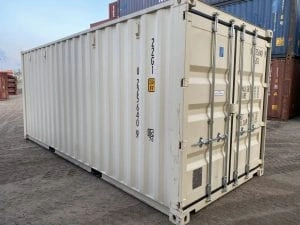 New Builds / Single Trip Containers
Single Trips, as they're sometimes called, are the best quality shipping containers available in Australia. With every container built overseas, they have all done at least one trip but rest assure that majority are in near mint condition. Although the odd container can get overly damaged, rest assured at Brendo's Budget Boxes you're not just getting the next container off the stack. We have our own container depots, where we inspect and check every new build container that arrives and it gets checked again before it's delivered.

All new builds are generally in the same condition but this doesn't mean there all the same. Ours are tailored more to the retail market, adding features such as easy open doors, extra air vents and lock boxes, Detailed below.
Containers not available in used condition
Shipping
Storage
Modifications
Relocations
Easy Open Doors
Some new build shipping containers come with easy to open door bars. With the right door having 1 bar and an extra long lever for more leverage.
Extra Air Vents
Shipping line units have 2-4 air vents and sometimes none at all. We get our new builds built with 10-12, resulting in better air flow and a cooler internal temperature.
Lock Boxes
All our new build containers are built standard with a lock box to ensure maximum security. Preventing angle grinders or bolt cutter from getting anywhere near the lock.
Seaworthy Certified
Meeting all requirements of seaworthy container, new builds come with a 5 year seaworthy certification from their build date. No need of a CSC certificate.